How to Login to Your Pre-Client Due Diligence Portal After Creating An Account
You will only have access to create an account on our CLIENT ACCESS Portal after your Initial Call Consultation with Brett Swarts or a team member of Capital Gains Tax Solutions.

This proprietary client access page will give you an in-depth explanation of the steps, processes, and files you need for closing.
TO LOGIN: 
Click "Login Here " located at the CENTER of the screen.
TO CREATE AN ACCOUNT:
Click the "Create an Account" button located at the BOTTOM of the screen. 
Please see the Screenshot Below for your reference.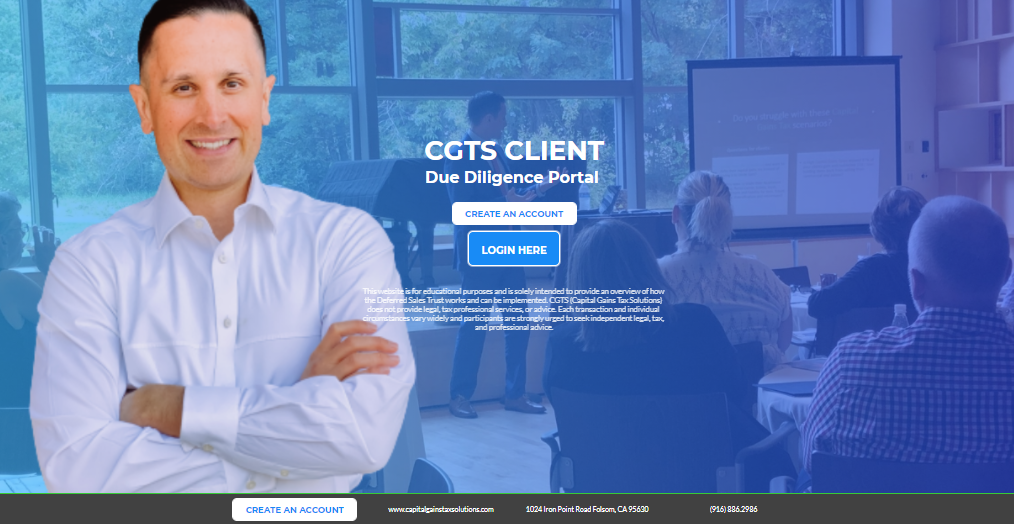 PLEASE NOTE
Your due diligence period is zero cost and 100% no obligation. If for any reason you decide not to use the Deferred Sales Trust™ before your deal closes or if your buyer backs out of the deal for any reason, simply let us know before the close of escrow and there will be zero fees owed to anyone including DST attorney.