"LET'S SET YOUR EXPECTATIONS"
CLIENT MAP OVERVIEW
☑ Discovery [DONE]
Understanding the Deferred Sales Trust™ 
☑ Schedule for a Call Consultation [DONE]
To gain access to our client due diligence portal, your asset must be qualified and you should have had a conference call with Brett Swarts or a team member of Capital Gains Tax Solutions.
Our minimum deal size for a Deferred Sales Trust™ is $1 million in net proceeds with at least $1 million in capital gain per asset sale. Example) Your purchase price is $100,000 and your selling price is $1,100,000, however, if you're selling two or more assets in a short period of time, you can combine them into a single Deferred Sales Trust™ to qualify for the eligible amount. 
After your Free Call Consultation, you'll get access to this pre-close client portal. This is where you'll find all of the information and details needed to complete your transaction. 
The whole team will help you throughout your closing process.
NEXT STEPS AFTER YOUR CALL:
☐ No-Cost Legal Call
Your next step in the process is a call with Brett Swarts, Financial Advisor assigned to your case, and the Deferred Sales Trust™ tax attorney for further review and to answer any legal questions you may have.
NOTE: You will receive an email a few times for the above conference call. Please Confirm the Schedule of Your Choice ASAP as times do fill up quickly for all parties.
If the above call is a success, our Transaction coordinator will create a deal file and send you the information and documentation needed to close your DST transaction. He or she will also assist you with gathering information, purchase and sales agreement, sending you disclosures and fees, and obtaining digital document signatures. 
The first documents you will receive is the "Conditional Engagement Agreement and Fee Agreement". 
Once you sign, please proceed to the Next Step After Free Call Consultation.
☐ Pre-close Client Access
Follow the 6 Steps on "Next Steps After Your Free Call Consultation" 
(SEE IMAGE BELOW)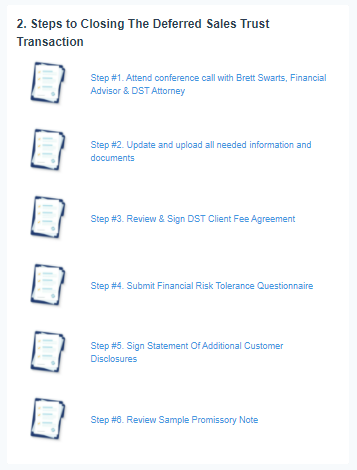 ☐ Open An Account
Open Bank Account and eMoney Access Account 
☐ Grow Your Funds By Investing
Close and Invest Funds, Learn about your investment options